Last nights Flash was, to say the least, the payoff to what has been growing since we first saw Barry travel into the future.  We see the showdown at Infantino Street where Savitar stabs Iris and kills her.
They have shown flash backs, and flash forwards of Savitar stabbing Iris, since the first time Barry flashed-forward.  Savitar raises his arm, Barry tries to run, Savitar says "Finally, I am free of you!" and stabs Iris.  We've seen it in Cisco's Vibe-visions, as well as the multiple times they've replayed it and re-visited the time.
The circle keeps looping, and Iris is stabbed.  No matter what Barry tries, Iris always ends up dead.
Last night, was their last chance to save her.
Except, was it?
The entire reason Savitar exists, is because Barry brought a bunch of Time Remnants of himself to help stop Savitar.  They are all killed except for one, which is the one that becomes Savitar.  So, Savitar kills Iris, Barry tries to stop Savitar by bringing time remnants to the stabbing, and one of those remnants is Savitar.  So the single easiest thing he can do is NOT create the time remnants, since he knows that it wont' save Iris, and ultimately gets iris killed.  But I'm getting ahead of myself.
So, the Speed Cannon has been finished, but lacks a power source.  The only power source that Cisco can find is in the hands of ARGUS.  Now, they have a friend who runs ARGUS (Lyla, she is married to John Diggle from Arrow) but she turns them down when they ask for it.  Her reason?  Barry can't be trusted.  And I have to agree with her.  Barry has consistently made bad choices, especially when iris or his loved ones are involved.  Lyla calls him out on this, and says no.
So, back at STAR labs, Barry tells the team they're going to steal the power source.  They agree, because it's Team Flash, not Team STAR Labs.  But none of them are thieves, and breaking into ARGUS is more difficult than breaking into Fort Knox.  And, they have a power dampening field, so Barry can't just superspeed in and out.  But Barry knows someone who is a master thief.
So, Barry travels in time (again???  Seriously, Barry, stop all the time travel!) to brings his old frenemy Captain Cold to the city to help.  Now, he happens to grab a Captain Cold from somewhere in the previous season, because as we know, good ole Leonard Snart blew up in the Occulus.  So, this is a time remnant.  Yeah, no worries about him going Rogue or anything.
The rest of Team Flash is understandably worried, as Cold is hardly a hero, but they go along with the plan.  Because, of course, this is Team Flash, and not team Joe West.
Captain Cold starts by laying out the ground rules of a heist:
Make the plan
Execute the plan
Expect the plan to go off the rails
Abandon the plan
Of course, the camera cuts before we get to see the details of the plan (much like Ocean's 11, and most heist movies), so we simply get to see the "execute the Plan" and "The pan goes off the rails" part.
The first part of the plan is breaking in.  Using HR's face adaptation technology, Snart and Barry try to sneak into ARGUS.  The fake ID card works perfectly.  The face recognition software is fooled by HR's hologram technology, and they get past the first checkpoint – almost.  It seems ARGUS also has a pass-phrase of the day, and Barry and Snart don't know it.  So, immediately, the plans go off the rails.  They knock out the guard, and move into the ARGUS facility.  There's not much security around, and there are no alarms set off, so the guard must be in a coma at this point, and no one else has tried to come in or out of a super secure facility.
Snart and Barry get to the main secure area (deep below ground), where they see prisons for "Waller's Suicide Squad".  Grodd, Cheetah, and a couple of other names flash by, before we get to the main cell – the power source is waiting inside.  Unfortunately, King Shark is on the other side of the door, guarding the power supply.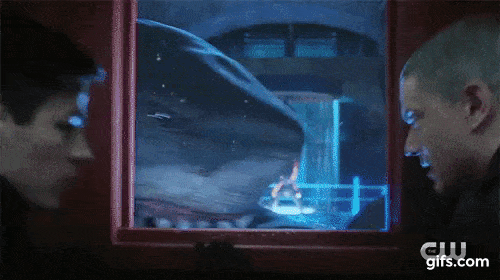 This presents a problem, as King Shark is super strong, super tough, and not friendly.  Barry is about to go all murder-crazy "I'll do anything to save Iris", and asks Cold for his gun so he can shoot King Shark to death.  Cold admonishes Barry, in the form of praising him, and Barry relents.  Fortunately, Snart is a fan of "Shark Week" (and the Waverider gets cable), so he knows a little something about sharks – they are a little warm blooded, and if it gets too cold, King Shark should fall asleep.  Together, they open the door slightly, jam in Cold's gun, and take the room into freezer temperatures.
Once inside, Cold hangs a lampshade on how Jaws didn't show much of the shark because they couldn't afford it – the same reason the Flash doesn't show much of King Shark, due to the CGI costs.  They tip toe around the napping shark, with a layer of ground fog to hide him, and show only the fun.  Really trying the cheapest of tricks to build drama.
They get to th power source, Barry grabs it, the alarms sound, and the door starts to shut.  Barry manages to get out, but Cold is trapped inside.  Barry has a decision to make:  Leave Cold behind, and take the power source out and save Iris…or wait for Cisco to hack open the door and save Snart.  Barry hems and haws, but ultimately, stays behind because he is a hero
Finally, ARGUS security shows up, with Lyla, who is there to take back the power source.  She tells them, in the comfort of her office, that she watched the whole thing on CCTV, and saw how Barry acted.  He was a hero, when he could have left Snart to face the consequences on his own.  He didn't and he proved that he can be trusted.  Also, she says, if she had come to Barry with a similar request to save Diggle, he would have helped.  So she gives him the power source.
We cut to Savitar, who we see flashing memories of the heist, so he is updated on the new decisions everyone has made – if Barry int he past knows it, he knows it.  Which means, while he knows what they plan to do with it, they don't know HOW.
They head back to STAR labs, and start to plan the showdown, which is only a few hours away.
The team makes a plan to save Iris:  Take her somewhere Barry doesn't know, so she is safe from Savitar.  Use the Speed Cannon to trap Savitar in the Speed Force, and don't tell Barry the plan, so Savitar doesn't know.  Overall, not a bad plan.  Don't tell Barry anything, so Savitar doesn't know.
Unfortunately, HR opens his big mouth, and tells Barry that iris safe on Earth-2 with Harry Wells.  Which means Savitar instantly knows it.  They show Iris and Joe catching up, revealing hidden secrets, and generally coming to terms with her impending death.  then Savitar shows up, and kidnaps Iris.  So, now he has Iris, and it's minutes from midnight, when he is slated to kill her.  Barry shows up seconds later, and Joe says Savitar has taken her.  They know where nad when Savitar kills Iris, so, they plan to confront him there and then – just like the flash-forward showed over th season.
Team Flash is spread around, and Savitar shows up, as planned.  Barry tries to save Iris by shooting him with the Speed Cannon – except Savitar already knows about the Cannon, and uses all the energy to create the Philsophers Stone from all the extra Speed Force they create when they shoot Savitar with the Speed Cannon.   So Savitar used the Speed Cannon against them, and created the Philosopher's Stone which he will use in the future/past to free himself from the Speed Force where he is trapped by the Speed Cannon, only this time int he future, and not in the past.  Wait, what?  I'm getting confused by all this time travel again.
The Speed Cannon has failed.  Savitar has turned it around on Team Flash and used it for his own needs.  Savitar once again has Iris, raises his arm, says "Now I am free!" and kills Iris.  Barry is unable to stop Savitar from killing her, and she dies in his arms to close out the episode.
Now, this is what is supposed to cause Barry to break, and become Emo!Barry.  It's also why he is supposed to go and get a bunch of Time Remnants to stop Savitar from killing her, which creates Savitar.  But he didn't save her, and he didn't create a bunch of Time Remnants to save her.  Except, he can time travel, so once he is broken, he can travel back into the past, and try to save her, and end up creating Savitar.  So, if he simply doesn't create any Time Remnants, Savitar is never created, so Iris is never killed, erasing the entire loop.
Right?
Next week is the season finale.  Iris is dead – though I suspect there's a twist hiding somewhere.  Much like Killer Frost, I don't see them getting rid of the character.
I'll be there, to see how it's all resolved.  Will you?