Now, that might seem like a difficult list.  There are a few wrestlers who can call themselves the "Greatest of all time" or, GOAT.
Some think Bruno Sammartino can make claim to that title. He carried the WWWF, and wrestling in general, for decades.  The same can be said for the women's division, with the Fabulous Moolah.  No one can deny Ric Flair as being "The Man" and a contender for the title of greatest of all time.  Recently, Chris Jericho has become the self professed GOAT.  Many said for years Daniel Bryan was the GOAT, and even had JBL calling him "goat-faced" etc to help sell it.
But ultimately, there are only four wrestlers who transcended the sport.  Who somehow become bigger than the sport itself, and who deserve the title of Greatest of All Time
#4 – The Undertaker
There can be no list of the greatest pro wrestlers ever without mention of the Undertaker.  His Wrestlemania streak of 22-2 will never be matched.  Well, it can be matched, but it'll be a while.  This is a streak of unprecedented proportions.  This is much, much bigger than Goldberg's undefeated streak (which has been broken recently), even though wrestling is pre-determined.  The reason it is such a big deal is Wrestlemania is the Showcase of the Immortals, the Big Show, and the event that Vince McMahan bet his entire company and future on – and won big.  Without the Wrestlemania cornerstone, the WWE would never have gotten to the point it is now.  It's a touchstone, a pop culture icon, and an everlasting legacy.  Just like Undertakers streak.  In part, Wrestlemania continued to be a big event, just due to the Undertaker.  In short, the WWE would be a vastly different place without his leadership inside, and outside, the ring.
#3 – Hulk Hogan
The first real crossover star for wrestling.  He started the first mainstream crossover possibilities.  He starred in movies (but they were terrible), he drove merchandise sales for a good four generations of wrestling fans, popped the territory in Atlanta when he joined the nWo, and continues to pop crows everywhere he appears.  His brand name will outlive him, and h is popular continues well past his wrestling prime, and well past his expiration date.  Only Ric Flair, and Undertaker have lasted as long, or longer, than Hogan – and I don't think we'll get rid of Flair or Hogan until they die.   The biggest reason I couldn't put him higher on this list is because of the scandals associated with him.  In the 80's it was the steroids, in the 2010's it was Gawker and his sex tape.  And t he racist tapes.  And his unhealthy relationship with his daughter.  The list, unfortunately, goes on and on.
#2 – Stone Cold Steve Austin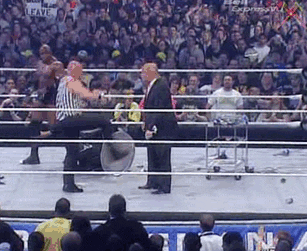 First of all, he gave a Stone Cold Stunner to the current President of the United States.  I can't say much more than that about why he deserves to be on the list.  But I will.  Stone Cold brought new eyes to a failing product.  In the middle of the Monday Night Wars with WCW, Stone Cold brought people back.  His program with "the Boss" Mr. McMahon firmly brought them from the brink of disaster to the top dog, and it's a place they've never looked back from.  While other factors, such as HHH and Degeration-X were factors, Stone Cold was the star of the Attitude Era.  He made wrestling 'cool' even if only for a few years.  WWE desperately needs someone like Stone Cold again.  They have stars, and Superstars, but none of with the sheer charisma of the Bionic Redneck, a man who connected on every level with wrestlings most loyal, core audience – and appealed to a more mainstream audience with his counter-culture, fight the man, blue collar attitude.
#1 – The Rock
No one can deny the most electrifying man in all of entertainment.  He transcended just wrestling, and moved on to being a full time Hollywood A-list megastar.  He has single-handed reviced no less than 3 franchises, ad is the current highest paid actor of 2016, and looks to be on track for another big year.  He is executive producer, and star of a TV show (Ballers), a reality show (Wake up call), numerous guest appearances and talk shows, as well as tire and other commercials.  He is the single most bankable star in Hollywood at the moment, and he is cashing in on it.  Not only did he start his own production company (which is working on the Paige biopic), but he continues to star in hit movies (Fate of the Furious), soon to be hit movies (Jumanji remake/sequel/prequel), and rumored to be connected to dozens of other movies (Shazam/Black Adam, etc).  He is the single most popular wrestler of all time, surpassing Hulk Hogan, Stone Cold, and Undertaker, while staying as loyal to wrestling as he can.  He didn't make this year's Wrestlemania (but it was stacked as it was), but he was in the 2016 'Mania, for about 20 minutes.  Even without trying, he is still drawing in new wrestling fans (by being curious about where he came from, and his path to success), and entertaining older fans.